Chadwick Boseman's journey may have been cut short by his death at 43, but he had already proved a hero to the countless people he inspired along the way.
"…One day I'll live to tell the story."
How Chadwick Boseman dies.

click here to learn more.
In his short 43 years on Earth, Chadwick Boseman had the opportunity to tell a lot of stories. Stories of importance, of determination, of Black excellence. From historical figures like Jackie Robinson, James Brown, and Thurgood Marshall to fictional ones like King T'Challa, Boseman built a career out of bringing heroes to the big screen, humanizing their struggles as only he could.
And yet, that story he was waiting to tell—the one referenced above in a quote from a 2017 interview with The Huffington Post—would go untold by the man himself. As the shock of Boseman's death following a private, four-year battle with colon cancer continues to reverberate throughout Hollywood and beyond, that story—his story—is now his survivor's shared responsibility. It's left to his family, his friends, his fans—all of us, really—to tell, to keep alive.
All good stories have to start somewhere. Boseman's began in the small town of Anderson, S.C. Born on Nov. 29, 1976, as the youngest son of mom Carolyn, a nurse, and dad Leroy, a textile factory worker with an upholstery business on the side, Boseman was a quiet kid whose earliest role models were the Boseman's who'd come before him.
He learned work ethic from his father. "I saw him work a lot of third shifts, a lot of night shifts," Boseman told The New York Times in 2019. "Whenever I work a particularly hard week, I think of him." From oldest brother Derrick, now a preacher in Tennessee, he gleaned a drive to win. "I wanted to beat the older one in sports," he said when discussing his brothers. A talented basketball player, Boseman had what it took to be recruited by colleges and might have followed that path had tragedy not changed the course of his life. (More on that in a second.) And from another brother, Kevin, a dancer with the Alvin Ailey company who toured with The Lion King, he was exposed to the arts—something that was foreign to the Boseman's until Kevin paved the way. Rich Fury/FilmMagic
"He had the resolve to be like, 'No — I have something; I'm going to do it anyway, right or wrong,'" Boseman said of his brother's determination to follow his dream. "And he was right."
Tagging along with mom to pick Kevin up from rehearsals, Boseman was fascinated by the action he witnessed on stage. Whether he knew it or not, something had begun to take hold within him. And when, during his junior year of high school, a friend and fellow player on his basketball team was shot and killed, he started writing, pouring out the thoughts and emotions elicited by the tragedy until he had a whole play. 
He credited his brother Kevin for inspiring him to create art, telling the NYT,  "There's no way in the world I would have thought, 'O.K. let me write this play' if it wasn't for him. Ultimately, I'm here because of what he did."
Boseman would eventually stage production of the finished product, which he titled Crossroads, at school. And like that, sports were behind him and a storyteller was born. "I just had a feeling that this was something that was calling me," he told Rolling Stone in 2018. "Suddenly, playing basketball wasn't as important."
After graduating from Howard in 2000, Boseman settled down in Brooklyn, where he began writing and directing plays in New York's hip-hop theatre scene. To pay the bills, he worked as the drama instructor for the Schomburg Junior Scholars Program, which was housed at the Schomburg Center, a research library dedicated to Black culture in Harlem. As Rashad told Rolling Stone, "He was so proud and fulfilled by that. When he talked about it, he became like sunshine – he loved it so much."
He soon began booking acting gigs, with guest appearances on TV shows like Third Watch, Law & Order and ER. In 2008, he landed a recurring role on the short-lived ABC Family series Lincoln Heights and appeared in his first film, The Express: The Ernie Davis Story. Two years later, he'd upgraded to series regular with a leading role on NBC's Persons Unknown. But his big break wouldn't come until 2013 when he landed the role of Jackie Robinson, the groundbreaking professional baseball player, in the film 42. 
When the call came that he'd won the job, it wasn't a moment too soon. As Boseman told GQ in 2014, he was about ready to give up acting altogether and rededicate himself to his initial passions—writing and directing—when fate intervened. 
"I was waiting to hear about 42. Nobody had called me. Nobody had told me anything," he told the publication. "I had gone in for it 100 per cent, but there was no reason for me to think I'd done well. Nobody had called me and said, 'Hey, they really liked your audition.' Nobody was like, 'Hey, they're really thinking about you.' Nothing. But on that night, the play I was directing ended, and I went next door to a bar and was watching the end of the World Series, and I was like, 'Yo, I'm about to get this role,' and I knew it. And that was the night they called me. Just like—boom!—' It's yours.'"
After his portrayal of Robinson came, in quick succession, the privilege of resurrecting both the inimitable Godfather of Soul in 2014's Get on Up and the first Black Supreme Court justice in 2017's Marshall before slipping on his vibranium suit as the king of Wakanda in Marvel's Black Panther. Despite being fully aware of the painfully limited material of quality afforded to Black actors in Hollywood—"Very often, the humanity for black characters is not there," Boseman told RS—he made it a point to seek out projects that carried the same emotional heft he'd felt back when the death of a friend spurred him into action.
"For me, doing this, it has to be meaningful," he told the magazine. "Because that's how it started."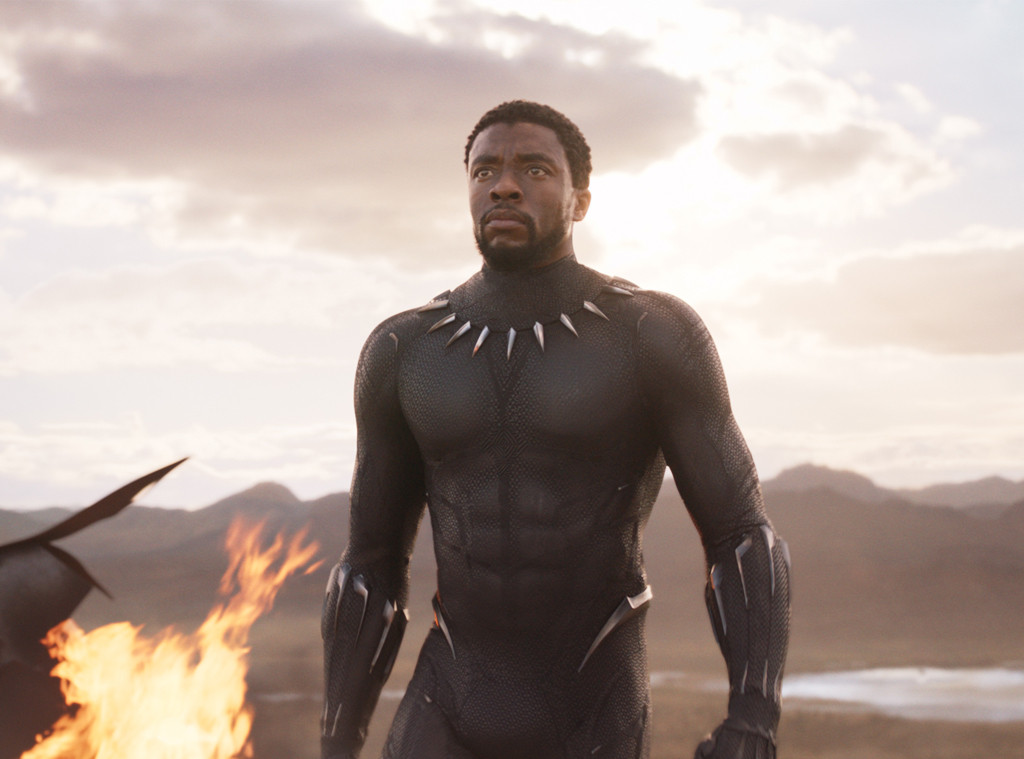 Marvel Studios
While the string of biopics allowed the actor to embody a trio of giants in the civil rights movement, it's his work as Black Panther—which began with a scene-stealing turn in 2016's Captain America: Civil War before seguing into the revolutionary 2018 solo film—where Boseman was able to find the most meaning and make his biggest mark. One need only look at the outpouring of love and grief in the immediate aftermath of his passing to see the impact his performance of the beloved comic book character made on the Black community, especially children who'd never before had the opportunity to see themselves as a superhero.
Working in concert with director Ryan Coogler and a historic team of Black artists at every level, Boseman helped bring to the big screen a supremely satisfying comic book adventure that also deftly tackled what it means to be Black in the world. The excitement the film stirred in a sorely underrepresented audience helped it become one of the biggest success stories in movie history. With a worldwide gross of over $1.3 billion, it currently ranks as the 12th-highest-grossing film of all time. It also became the first superhero film to land a Best Picture nomination at the Oscars.
The magnitude of Black Panther's success was never lost on Boseman. While accepting the film's win for Outstanding Performance by a Cast in a Motion Picture at the 2019 Screen Actors Guild Awards, he remarked, "To be young, gifted, and Black, we all know what it's like to be told that there is not a place for you to be featured. We knew that we had something special that we wanted to give to the world. That we could be full human beings in the roles we were playing. That we could create a world that exemplified a world that we wanted to see."
As we've only just learned, the brutal reality to Boseman's cultural ascendance was that it all unfolded as he was privately fighting for his life. Having been diagnosed with stage III colon cancer in 2016, he spent the last four years of his life working tirelessly on the project after project in-between "countless surgeries and chemotherapy," as the statement announcing his death revealed on Aug. 28. It's staggering to consider the sacrifices he made to film Black Panther, Avengers: Infinity War and Endgame, and more while so sick—and a potent reminder that you never really know what anyone is going through. (And to know that this was all unfolding while he was also falling in love, as girlfriend Taylor Simone Ledward became his wife sometime prior to his death, makes it all the more heart-wrenching.)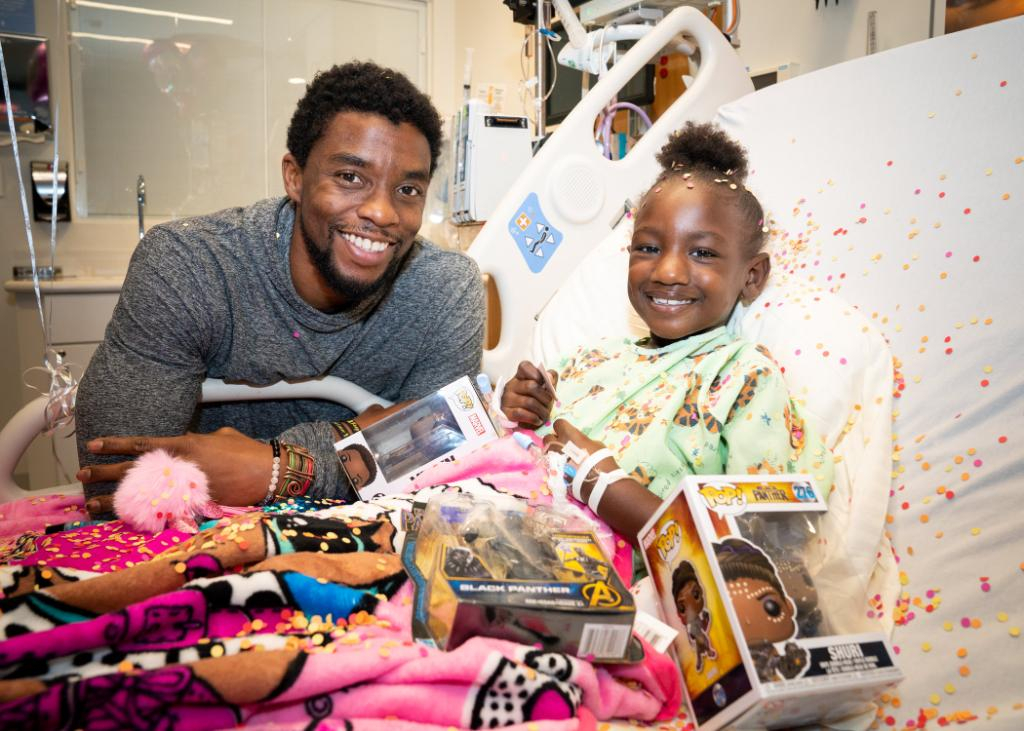 St. Jude
To know of Boseman's suffering now also serves to make the time he spent with young cancer patients all the more touching. After a visit to St. Jude Children's Research Hospital in 2018, the remarkably selfless actor tweeted, "Had a birthday celebration with a beautiful little princess, Mady. She let me throw the confetti twice. I think I had as much fun as she did."
That same year, while speaking at a Sirius XM Town Hall, Boseman broke down in tears when remembering two young fans who passed away before they were able to see Black Panther. "Throughout our filming, I was communicating with them, knowing that they were both terminals. What they said to me and what their parents said, they… trying to hold on till this movie comes," he recalled. "You hear them say that and you're like, 'Wow… I gotta get up and go to the gym, I gotta get up and go to work, I gotta learn these lines.'
"See how the world has taken this on, seeing how the movie has taken on a life of its own, I realized that they anticipated something great. I think back now to a kid and… waiting for Christmas to come, waiting for my birthday to come… I did live life waiting for those moments. What put me back in the mind of being a kid, just to experience those two little boys' anticipation of this movie, and when I found out that they…" Boseman continued before losing his words as his co-star Lupita Nyong'o put her hand on his back."It means a lot," he closed.
Chadwick Boseman death ?????

click to learn more
Ruminating on the roles he played in his career, he told The New York Times about his process of humanizing each of the giant figures. "You're a strong black man in a world that conflicts with that strength, that really doesn't want you to be great," he said. "So what makes you the one who's going to stand tall?"
When asked what made him the one to play them with the dignity they deserved, he considered the question for a minute before answering. "They can put the clothes on you," he answered, before grinning. "But then you've gotta wear 'em." 
Spoken like a true giant himself. One whose story we'll be telling for years to come.